Cookie Out Error and/or Cookie is knocked off the platform (Eddie).
The cookie sensor is expecting something to be on the platform/tongue starting at the back. If it doesn't find anything it doesn't print and you receive the cookie out error and it may knock the cookie off the platform. This can happen if you are printing very small or very thin items.
Instead, put the cookie on the back of the cookie platform/tongue. If you are using a coaster use a thicker silicone coaster that is taller than .08". Typical cardboard coasters are .07" so sometimes they work and sometimes they don't. You can also stack two cardboard coasters if that is all you have available.
1. Place the Cookie on the back of the platform.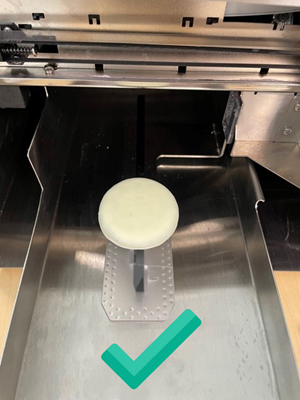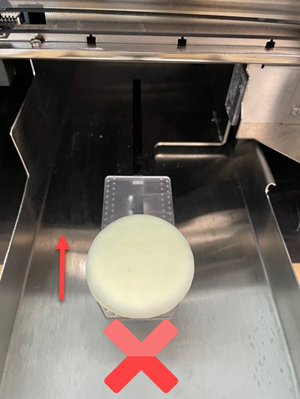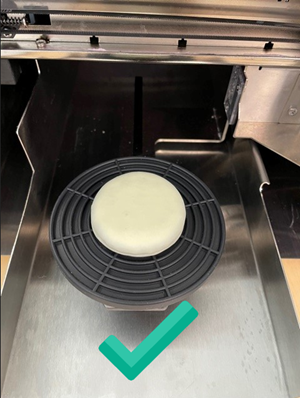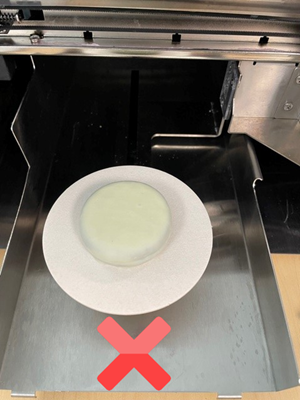 The cardboard coaster on the right is too thin for the sensor to detect it. It must be at least .08" tall.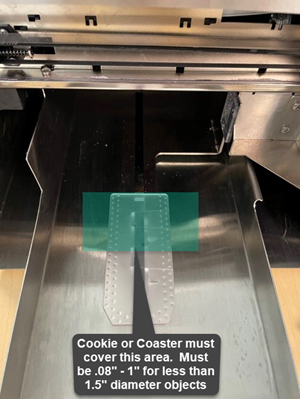 Cookie or Coaster must cover the area in green. It must be .08" - 1.0" tall for less than 1.5" diameter objects
Article ID: 072821
Related Articles

Error Message: Trouble Finding Cookie / Remove Cookie. However, there is no cookie present on the platform. (Eddie)

Make sure there is no cookie or other print object on the print platform when you switch it on. If there is a cookie present, remove it, switch off the printer and switch it back on. If the error is still present, try these suggestions. 1. Ensure ...

Smaller diameter, thin or lighter cookies do not print, the image is overlapping itself, the image is not centered, or Cookie out error. (Eddie).

The reason for this is not always related to the size but instead, it has more to do with the weight. These cookies are lighter which can allow the cookie to move slightly as it is being scanned for size. If the cookie is too small or moves during ...

Occasionally the cookie does not print centered. Inconsistent print start positions. (Eddie).

1. Feed/Reverse Speed. If the cookie moves during the scanning process before each print, it may not print centered. You can slow down feed and reverse speed. This will slow down the scanning processing making it less likely for the cookie to ...

Platform Feed Obstruction Error (Eddie)

1. Remove obstructions. You may encounter this error at printer start-up if there is anything blocking the platform/tongue movement. Ensure the crumb catcher is installed correctly and not blocking the cookie sensor on the right side or the ...

What size cookies can I print to with my Eddie?

The cookie size and shape you can print depends on whether or not you are using the carousel and other settings. You have more flexibility in Manual Mode/Single Cookie mode. There are several modes available. See the specifications for each below. ...