How many labels per cartridge can I print? How can I calculate ink cost per label?
Since labels sizes, colors etc. can vary greatly from label to label, the best way to estimate cost per label / labels per full cartridge is to run the Prints from Cartridge Utility by following the instructions below. You may also read this article which shows several example graphics and the number of labels printed per cartridge for various popular sizes.
1. Print a label to the LX400, LX800 or LX810.

2. Download and run the Prints from Cartridge Utility. (PC Only)

3. You will see the following screen: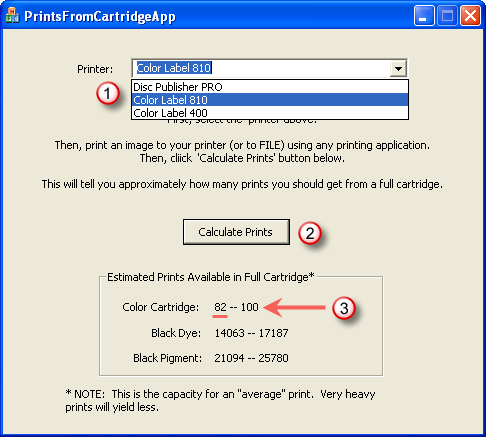 4. Select your printer, click Calculate Prints, study the values displayed. Use the lower number to calculate the number of prints per full cartridge. Some images and some cartridges may allow you to reach the upper limit of prints shown. Remember to set your printing preferences before you print the label. If you chose Color only as the cartridge type, only the color cartridge numbers will be relevant. If you chose Color + Black the Color Cartridge numbers and the Black Dye numbers will be relevant.

5. Use the cost of the ink cartridge divided by the total prints to receive cost per label.
To find how many more labels you will get from a partially used cartridge first print a label at the desired size and quality. Then go to the Start Menu - Choose Printers and Faxes - Right Click on Color Label Printer - Choose Printing Preferences - Choose Clean/Change Cartridge and Check Ink...
You will see an estimation of prints remaining of the last label under the percentage remaining of that color. (If you have set the cartridge setting to Color + Black, black will also show a Prints Remaining number)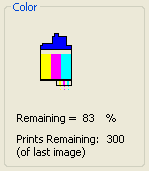 Related Articles:

At what point do the LX800 / LX810 / LX400 printers warn for low ink? Can warning points be adjusted?

How many labels per cartridge can I print? - Six example graphics of various sizes. (LX Printers)

Article ID: 44892