What size cookies can I print to with my Eddie?
The cookie size and shape you can print depends on whether or not you are using the carousel and other settings. You have more flexibility in Manual Mode/Single Cookie mode. There are several modes available. See the specifications for each below.
1. Carousel Attached Multiple Cookie Mode

Note: Eddie will perform best in carousel mode with the outer triangle spacers installed. If your cookie hits the printer when the tray is rotated, remove the outer triangle spacers and reposition your cookies.

Width:

2.5" – 3.85" (Outer Triangle Spacer Installed)

Shapes:

Works with round, square, or other uniform shapes such as triangles, hexagons or octagons work best in this mode.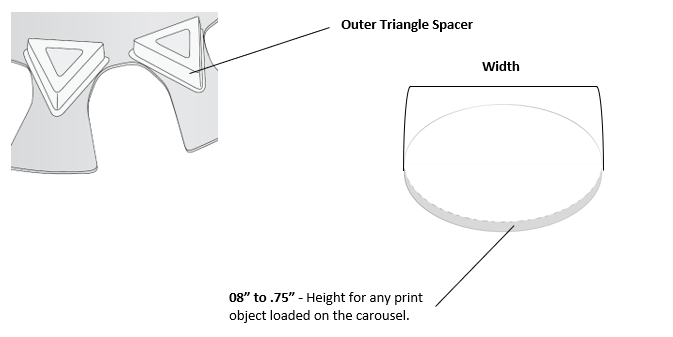 Width:

3.5" – 4.375" ** (Outer Triangle Spacer Removed)

Shape:

Round, square or other uniform shapes such as

triangles, hexagons, or octagons work best in this mode.

**Note: Outer Triangle Spacer Removed requires placing print items every other space for items larger than 3.42" (98mm). Otherwise, the items will touch one another, and you will not be able to place them so they are touching the fixed spacers.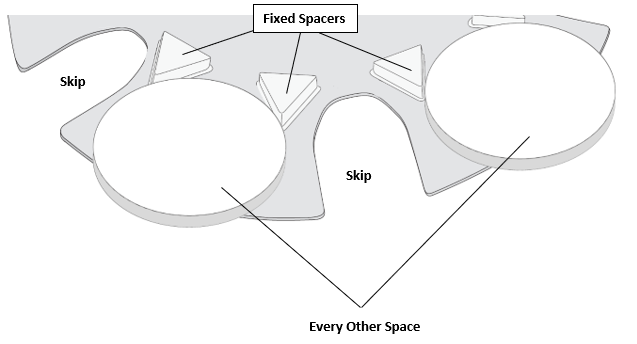 Width 1" – 2.5" (Outer Triangle Spacer Installed)

Requires 3.5" Macaron Adapters or similar silicone coaster (min .08" high). Place the coaster/adapter on the carousel plater and center the cookie on the coaster/adapter.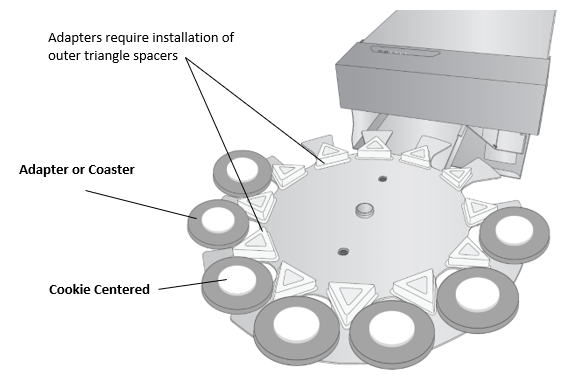 2. Manual Mode with cookie Centering Scan enabled. = Any shape that does not exceed 4.5" x 4.5" x 1"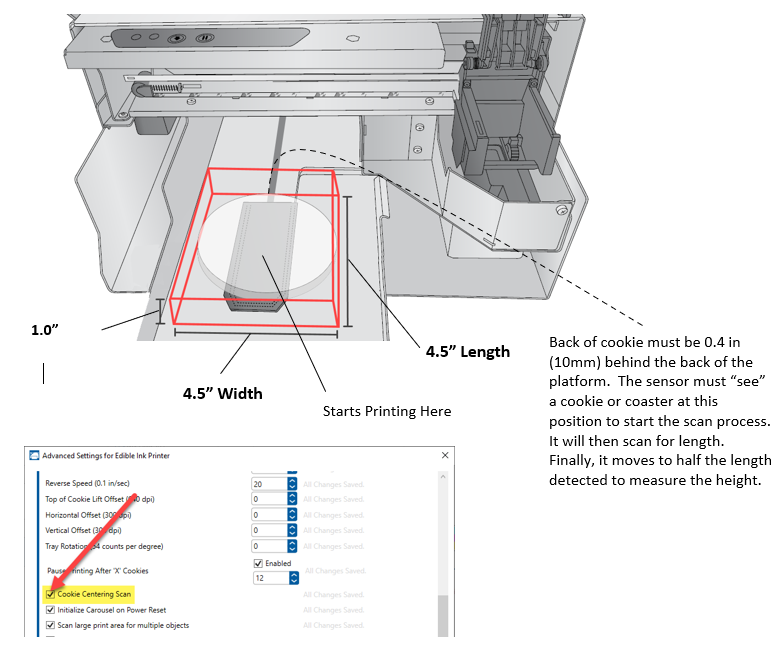 3. Manual Mode with cookie Centering Scan disabled. = 4.5" wide x 1" thick x up to 8" inches long. Any shape or size that doesn't fall off the tray will work. The centering scan has a 4.5" max scan area. When Cookie Centering Scan is disabled, you can use horizontal and vertical offsets to move the image.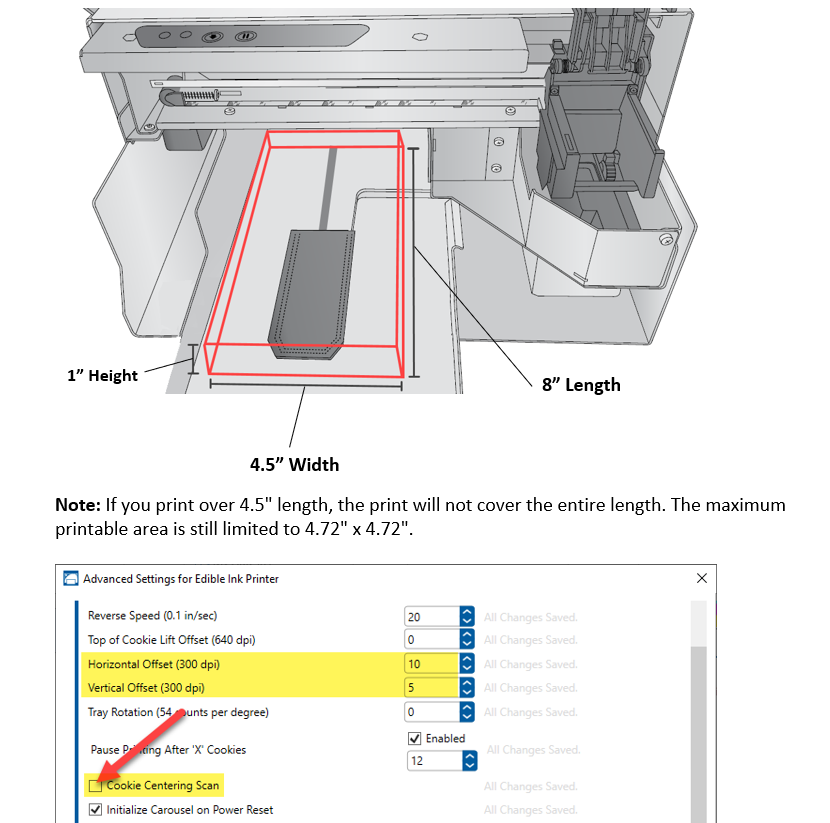 Note 1: Minimum print height for any size or shape cookie is .08" (Just a bit larger than 1/16") Most cardboard coasters are too short to print by themselves.

Note 2: Why are the max print size and max cookie size different? Max Print size is 4.72" x 4.72".
4.5" x 4.5" is the maximum cookie size in manual mode with centering scan enabled.
There is only enough space to retract a 4.5" width cookie into the printer but the printer driver will allow you to print 4.72" wide so you can overprint/overbleed the edges. With centering scan disabled you could fit a 4.5" wide x 8" long cookie. You could print a 4.72" x 4.72 image size to this cookie. It would overprint width on either side and print a 4.72" length on the front half of that 8" cookie.
Article ID: 082021
Related Articles

Smaller diameter, thin or lighter cookies do not print, the image is overlapping itself, the image is not centered, or Cookie out error. (Eddie).

The reason for this is not always related to the size but instead, it has more to do with the weight. These cookies are lighter which can allow the cookie to move slightly as it is being scanned for size. If the cookie is too small or moves during ...

Poor Print Quality, Blurry Printing, Print Smearing, faded prints, or splotchy prints on my Cookie or Food Item. (Eddie)

1. Clean the Cartridge. Follow the procedures in this article to clean the cartridge. However, instead of using alcohol to clean the cartridge, use distilled water or bottled water. 2. Clean the Wiper. Open the top lid, press and hold the Pause ...

Error Message: Trouble Finding Cookie / Remove Cookie. However, there is no cookie present on the platform. (Eddie)

Make sure there is no cookie or other print object on the print platform when you switch it on. If there is a cookie present, remove it, switch off the printer and switch it back on. If the error is still present, try these suggestions. 1. Ensure ...

Occasionally the cookie does not print centered. Inconsistent print start positions. (Eddie).

1. Feed/Reverse Speed. If the cookie moves during the scanning process before each print, it may not print centered. You can slow down feed and reverse speed. This will slow down the scanning processing making it less likely for the cookie to ...

Eddie stops or pauses in the middle of printing the cookie. (Eddie)

Try the following solutions: 1. Try to print a different file or print from a different program. Sometimes a particular design can become corrupted causing it to stop in the middle of printing. Try printing something else or recreate the file you ...