Platform Feed Obstruction Error (Eddie)
1. Remove obstructions.
You may encounter this error at printer start-up if there is anything blocking the platform/tongue movement.
Ensure the crumb catcher is installed correctly and not blocking the cookie sensor on the right side or the front-to-back movement of the platform/tongue. The hooks on the back of the crumb catcher should align with the slots on the back of the printer. You should be able to see the hooks on the back of the printer.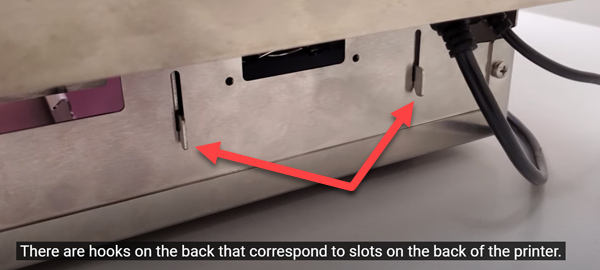 2. Remove any cookies, trays, adapters, or paper towels attached to the platform. Nothing should be on the platform when you turn on the printer. It checks and calibrates the platform during start-up. You can add these items after the printer has completed its start-up routine and no errors are present.

3. Install the tinted cover.
Make sure you install the tinted cover. It helps block any excess light from affecting the
cookie sensor
.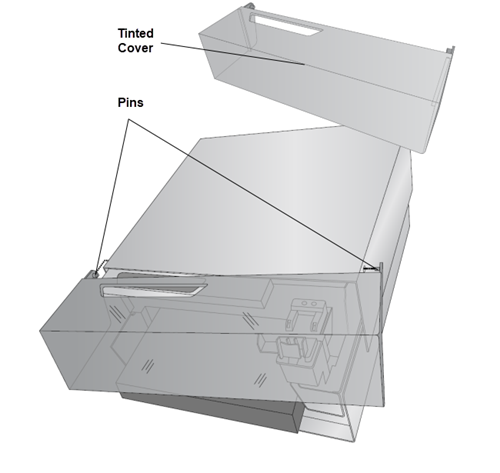 4. Clean the cookie sensor.
Ink overspray mist can build up on this important sensor and cause incorrect errors.
https://youtu.be/YcaApaTRlk0
Related Articles

How to enable Manual Feed Mode for oversized or irregular shaped cookies (Eddie).

Manual feed mode allows you to load cookies by hand directly to the print platform. This can be used for oversized or irregular shaped cookies that don't fit well on the carousel platter. To enable manual feed: 1. Update to the latest firmware 1.25 ...

How do I use my DTM Manual Feed Trays with the Eddie?

If you purchased manual plastic feed tray templates for your Eddie from DTM Print in Germany please visit the link below. You will need to download BarTender or NiceLabel Templates to use them. Also, watch the video for instructions. ...

Occasionally the cookie does not print centered. Inconsistent print start positions. (Eddie).

1. Feed/Reverse Speed. If the cookie moves during the scanning process before each print, it may not print centered. You can slow down feed and reverse speed. This will slow down the scanning process making it less likely for the cookie to move. ...

Error Message: Trouble Finding Cookie / Remove Cookie. However, there is no cookie present on the platform. (Eddie)

Make sure there is no cookie or other print object on the print platform when you switch it on. If there is a cookie present, remove it, switch off the printer and switch it back on. If the error is still present, try these suggestions. 1. Ensure ...

Smaller diameter, thin or lighter cookies do not print, the image is overlapping itself, the image is not centered, or Cookie out error. (Eddie).

The reason for this is not always related to the size but instead, it has more to do with the weight. These cookies are lighter which can allow the cookie to move slightly as it is being scanned for size. If the cookie is too small or moves during ...