1. Make sure your knife is installed correctly,
and the blue holder is pushed all the way back so the knife can easily move up and down.
Follow this video
.

When properly installed, the knife should move up and down as shown in this video:


2. Restart the PTCreate application. If you leave it open for several days, this issue can happen.

3. Check for Media, Chip Errors, or Paper out.
If the printer can't read the smart chip for some reason, it will not allow you to cut. Below are the applicable articles:
4. Switch your unit of measure to inches. Open PTCreate Pro - Click on the document tab. Change your Units to Inches.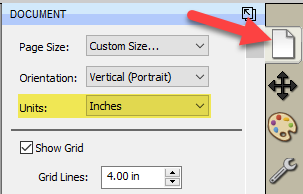 5. Using Trial Version. The 30-day trial version of the PTCreate Pro software allows you to design and print but does not allow saving of designs or cutting. To determine if you have the trial version go to the Help menu, select About. If you have purchased the professional version you will see a software key at the bottom of the help window. If you are using the Standard version there are no restrictions on cutting since the software is free and comes with the printer.

6. Cut lines are too close to the edge of the page. When you set up the layout always choose the maximum width of 4.25" (10.8 cm) or choose one of the preset sizes that all include the maximum width. Set the height to something larger than the label or array of labels. Center your design(s) on the page so there is some space between the cut and the edge of the page size. This will allow you to create a bleed around the label so that you always cut inside your print and get perfect cut every time.

In the example below, the cut lines are too close to the edge of the page. Press Ctrl+A to select all objects and then either drag them to the center, use the arrow keys on your keyboard to move the objects or use the nudge buttons to move in very small increments.
Cut lines are too close to the edge of the page
Ctrl + A to select all objects. Drag them away from edges.
Article ID: 020922