The smart Chip in my Primera LX610 media is defective. When inserted the media is not recognized as Digital Die-cut Media. The media feeds forward and back 12". When the print is sent, Gap Sensing Error is displayed or Non Digital Die-Cut Error message is displayed
When you insert digital die-cut media you should see an icon in the upper left corner of print-hub indicating you have Digital Die-Cut Media and a corresponding percentage remaining. If you do not see the icon make sure your media is digital die-cut media. This media comes with a black plastic hub which includes a copper chip attached to a green chip holder. See the image below. If you attempt to print to this media you will either receive a Gap Sensing Error message or Non Digital Die-Cut Media Error message.
If you have digital die-cut media but you are still not seeing the Digital Die-Cut Media icon please follow the steps below.

Clean the chip with rubbing alcohol. Clean the receiving pins on the printer with rubbing alcohol. (Remove power first)
Inspect the receiving pins on the holder for damage or misalignment. Realign with a flat screwdriver. (Remove power first) If they cannot be realigned, request/purchase a new chip holder housing – Right Media Holder - SKU 732014-1

Inspect the chip holder. Make sure it is not damaged and stays in the roll hub and spins freely once inserted.
Try a different roll of material. Every package comes with two. If it works, then you know the original chip was defective.
Request a new chip if the chip does not read, is visibly damaged, or is missing entirely.

Replug the smart chip connector. See this article.

Make sure you are NOT using the blank holder with a green hub and a blank green chip holder.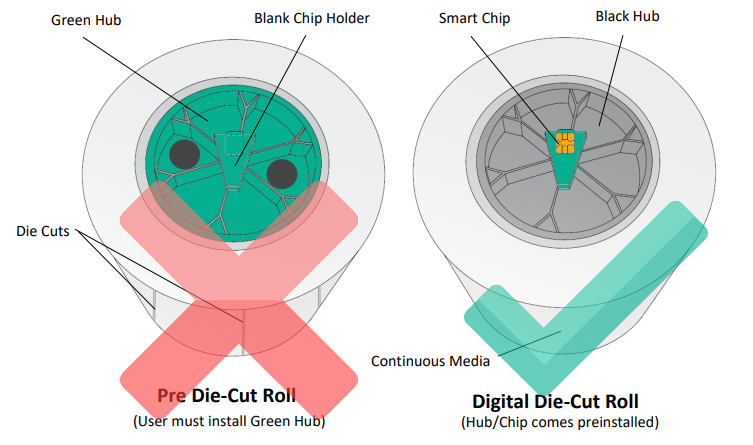 There are no other symptoms of a bad chip. Paper out error does not indicate a bad chip. 0% remaining does NOT indicate a bad chip. 0% is normal once the stock reaches the end. Chips are not meant to be used again or transferred to other rolls of Primera or non- Primera media.
Article ID: 062320