Mac:
If you are printing from Swift Publisher and you are unable to set the orientation, it probably means that you chose the wrong design type on the initial setup screen. Follow the tutorial found in this article. Make sure you choose
Blank
instead of
Labels
for the design type
PC:
The following is an overview of the orientation setting for the LX Series Windows printer driver.
Keep in mind that you should only be changing the orientation so that you can view a label right side up on the computer screen. You can accomplish the same printing result by leaving the orientation set to portrait and rotating individual objects 90 degrees on the screen. This is much more intuitive since the printer will print as you view the label. However, some programs do not allow you to rotate text and graphic objects.
Important! Regardless of orientation, always set Paper Size in the printer preferences to the width and height of the label as it is installed in the printer. Width = distance left to right, Height = distance front to back.
How to set orientation.
Set the orientation through printer settings in the software application you are using. If you are using Nice Label the label setup wizard prompts you for paper size and orientation.
Programs other than Nice Label such as Adobe Illustrator or Photoshop may require you to set your page size to the opposite values as the paper size set in the driver. In order to print an image in landscape mode to a 6" (w) X 4" (h) label you may have to set your page size/image size to 4" (w) x 6" (h) and then change the orientation in the driver to landscape. Page size in Adobe Illustrator can be found under the File menu - Document Setup. Image size in Photoshop can be found under the Image menu - Image size.
The following diagrams illustrate the difference between portrait and landscape as they appear on the screen and as they are printed.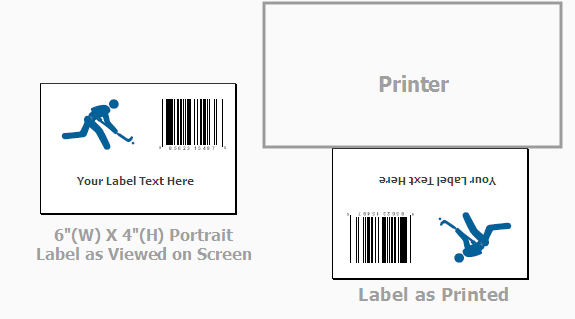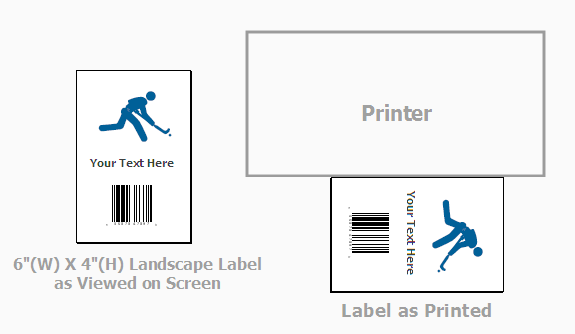 Note: Width and Height refer to the Paper Size setting in the printer driver.

Article ID: 44893