How do I use the Cleaning Card to clean my output cross-cut media cutter. (LX600, LX610, LX910, LX3000, LX500)
If you are prompted to clean your output cutter using a cleaning card, use these instructions: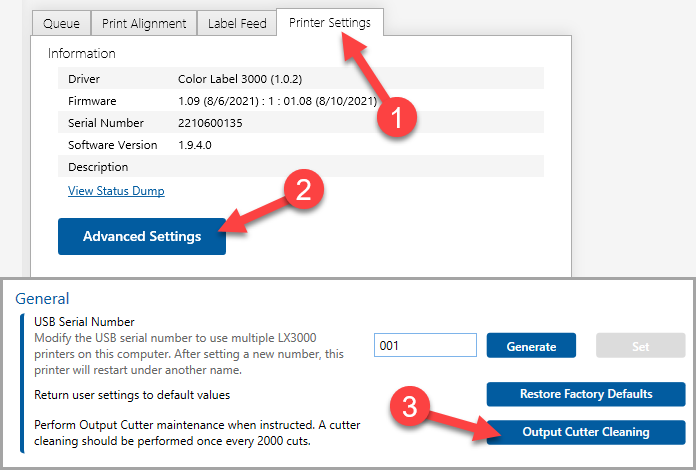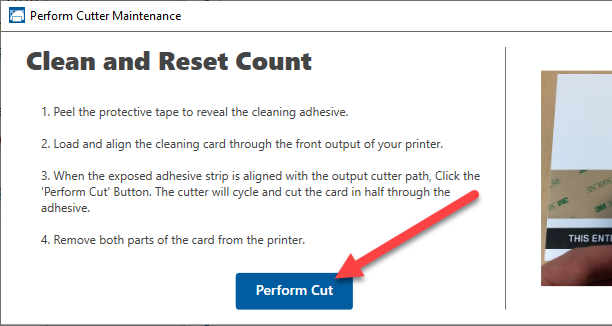 Note: This cleaning procedure works best when done regularly. If your cutter gets too full of adhesive and other debris, it may need more through cleaning. Follow these articles:

Mac Instructions. The mac software does not track cutting frequency or provide a cut button. However, you can still use the cleaning card to clean the cutter. Unload the paper and turn off the printer. Position the card in the same way as described for above but instead of sending the cut command through Print hub, simply turn on the printer. It automatically will do a cut at startup. Now remove the cut part of the card from inside the printer and reload the label stock.
Article ID: 101821
Related Articles

Can I use the output cross cutter to cut the final height of my labels? (LX500, LX600, LX610, LX910, LX2000, LX3000)

Using the output cutter to cut the height of the label is not recommended. The output cutter was designed to cut a printed section of labels from the printer after it is complete. It typically cuts through liner only in the gaps between the labels. ...

Cutter Stall Error (LX600-LX610)

The cutter referred to by this error message is the output cutter located at the front of the printer. This is a pizza wheel-style cutting disc that completely cuts through the label/media at the end of the job or at the end of every page, depending ...

The smart Chip in my Primera LX610 media is defective. When inserted the media is not recognized as Digital Die-cut Media. The media feeds forward and back 12". When the print is sent, Gap Sensing Error is displayed or Non Digital Die-Cut Error message is displayed

When you insert digital die-cut media you should see an icon in the upper left corner of print-hub indicating you have Digital Die-Cut Media and a corresponding percentage remaining. If you do not see the icon make sure your media is digital die-cut ...

What is the purpose of the Clean and Align buttons in PrintHub? (LX500, LX600, LX610, LX910, LX3000, IP60, Eddie)

Below is an explanation of the Clean and Align buttons in PrintHub and Config Utility (Mac). Align Button Cartridge alignment fixes quality issues caused by bidirectional misalignment. The alignment print available on all of our printers prints a ...

What is Continuous Media? What is Continuous Sensor Mode (LX Label Printers)

Continuous Media is label stock that has no black mark, die-cut, or through-hole. When ordering custom label stock, you may select the continuous check box. However, this is not a typical option to select. Only the width applies to continuous ...