1. Clean the Cartridge.
Follow the procedures in
this article
to clean the cartridge. However,
instead of using alcohol to clean the cartridge, use distilled or bottled water
.
TEST Prints.

Print your design on a cardboard coaster or a piece of cardboard with printer paper attached. Make sure it is thick enough. You can stack several coasters or pieces of cardboard to get enough height. If it prints with better quality, we know the cookie/frosting/icing could be the problem. See #5 and 6 below.



Print the clean print on your cookie or the coaster. If you are not getting dark solid blocks, you may have a clogged cartridge. Try #1.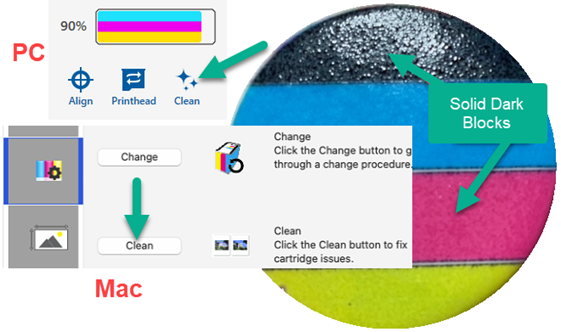 2. Clean the Wiper. Open the top lid, press and hold the Pause button for 3 seconds. The cartridge cap will be retracted, and the wiper will be exposed. The wiper will stay in this position for 10 minutes or until you press the Pause button again. Make sure you have a cartridge installed, or this procedure will not work!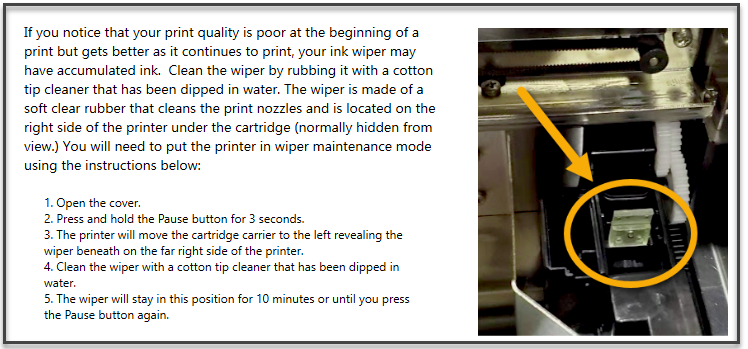 3. Sturdy Table.
Make sure the printer is resting on a stable surface that is not easily moved by the printer's printing motion. Excess table/bench/desk movement or wobble can print quality issues.
4. Saturation. Primera recommends setting saturation to 75% for most prints. For darker colors, such as black, we recommend 65% or lower. To change saturation, open the printer preferences/properties screen, which will be available right after clicking print. The name of the button you click depends on which program you print from. From BarTender, click on Document Properties...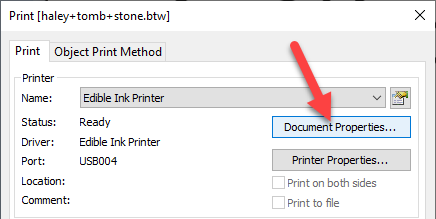 Adjust the following:

Saturation. Increasing saturation will make colors more vibrant but increase the chance they will look splotchy, blurry, or bloom around the edges, especially black. Black uses all three colors, so it uses more ink than other colors.

Color Matching. If the colors don't match your screen try toggling between these profiles. There is no correct setting. What looks best to you is correct. Try them all.

Quality. Quality 4 prints the slowest but will smooth out any lines/banding across the print. Higher quality takes longer to print but do not use much more ink than lower quality levels.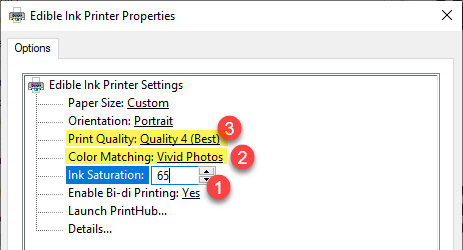 5. Colors. Not all colors print as well as regular dye ink paper printers. There are some reasons for this.

Frosting/Icing isn't always the ideal surface for printing high-quality images. See the suggestions in the next section for making your icing/frosting the best it can be for ink. Test the printer by printing your image to a cardboard coaster with paper attached to the top. If the colors/quality look good, you know the reason for fading/splotchy prints, etc is the print surface/icing. You can usually improve the print quality by increasing the dryness of the frosting but it will probably never look as good as paper designed to work with inkjet printing.

The ink uses is food grade which means the type of ink is limited by what is approved for consumption. The color choice of ink is not the same as what is available for the dyes and pigments used in paper inkjet printers.


Below are the colors and types of images that may be affected.
Black. Any black area on your cookie uses all three colors to produce the black. The mixing has to occur on the cookie. If the surface is more porous, some colors will sink lower, causing a green or magenta hue, especially around the edges. When they do mix properly, the black will look more like a dark gray. If too much ink is used, it will not dry evenly and look splotchy. Think twice about using black in larger areas of your cookie. A few accent areas are fine but ask yourself if it really needs to be black. If you switch to another color, it will look better and use less ink.

Red. Apple Red or Fire Engine Red is a difficult color for Eddie to produce. See this article on how to print the best red. This is because, in the US, only Red dye #3 & #40 have been approved by the FDA. Unfortunately, we are finding that the red comes out a bit orange. We are working with our chemical supplier to tweak the formula by reducing the yellow and adding a bit more of the #40. If you created your graphic in a program like Illustrator or Corel draw, you may compensate for this by adjusting the color percentages.

Photographs. Photographs will never look as good or vibrant as they would when printed on professional photo paper. There are some things you can do to improve it. If you are printing pictures of people, don't print the background. Crop out the person or people in the photo so there is a white background behind them. This can be done using many programs, including Paint 3D. The process is described in the manual. If you are printing scenery, it is best to design the print so that scenery is not the only element. Add text graphics and other graphical items to compliment it.
6. Adjust the printing surface (Icing/Frosting).
The most critical part of obtaining a high-quality print is to use a well-suited frosting. Frostings that are white and that dry hard work best, something similar to a royal icing. Cookies should be flat and consistent in size. Primera sells frosted cookies and frosting kits for those who don't want to make their own. See the recipe below, which will deliver excellent results. (Hint: the secret ingredient is meringue powder.)
For best print quality results, follow the specifications below:
Use the right recipe. The surface of each cookie should be frosted with the Primera recommended icing, or similar, or use the recipe below.

Smooth.

The surface should be as smooth as possible.



Dry.

The surface should be hard to the touch and completely dry. If the frosting is wet when you print you are just adding more water to an already wet surface. It will begin to

bead,

causing

splotchy uneven

colors. If there is excess moisture in the frosting, it is possible the print will bloom or become blurry if it is placed in an individual bag. Bagged cookies retain moisture and that excess moisture can be redeposited on the surface of the cookie causing it to bleed. If this happens, reduce the saturation value present in the printer driver. (See Number 2 above).

After frosting, leave your cookies to dry for 24 hours until a crust forms before printing.

After printing, wait another 24 hours before bagging cookies.
You can use a heat gun to dry the surface faster to decrease drying time before or after printing. Stay about 12" away and dry each cookie for about 15 seconds. You'll have to experiment with the exact settings as every cookie and environment is different and will affect drying speed.

You can also use a dehydrator or add cornstarch to the icing.


White

. The color of the icing should be bright white. The white surface makes the Cyan, Magenta, and Yellow colors match as close as possible to the image on your computer screen. It also creates a vibrant bright image.



Other Print items and frostings.

If you are not using frosting and are printing directly to the surface of the cookie (Example: Macrons, Marshmallows, candy, white chocolate), you may notice that your prints are not as vibrant and are slightly blurry. This is to be expected since the ink soaks into the surface more and the surface is not necessarily white. Other frostings, such as Buttercream frosting, does not work well. It is too wet and too porous. Over several hours after printing CMY colors tend to soak into different layers which means you will never get the color you are intending. Everything turns out brown eventually.



7. Crispy Cookie. Make sure the cookie is baked completely, crispy, and cooled before frosting. Excess moisture from the cookie will migrate into the frosting/icing and cause ink to bleed.
Recipe for Royal Icing
The key to making this icing is adding meringue powder to get an icing that will harden well and have a little air in it to absorb ink. It is crucial to get the consistency right so that the icing will flood well and give a smooth and flat surface for printing, but not so thin that it takes too long to dry.
· 3 Tbsp. meringue powder
· ⅜ cup warm water
· 3 ¾ cup confectioner's sugar, sifted
· 1 ½ tsp. vanilla or almond extract
Step 1: Combine the meringue powder and warm water in a bowl. Wisk for 2-3 minutes until the mixture is frothy.
Step 2: Add confectioner's sugar and mix for about 2 minutes until the icing is smooth. Add vanilla or other flavoring and mix well.
Step 3: Add additional warm water or confectioner's sugar in small increments to achieve the desired consistency for flooding the cookies. Adding water will make the icing thinner, adding sugar will make it thicker. Add enough water that the cookies will flood with a smooth surface, but not so much that the icing takes too long to harden completely.
Step 4: Use a piping bag to flood the cookies. Start by outlining the cookie and then fill in the middle. Make sure the surface is smooth and completely filled. Let them sit out until the icing is completely hardened. Do not store in a package that allows moisture buildup (like sealed plastic bags) as it could damage the smooth hardened surface of the frosting.