How do I get the free version of BarTender?
Run the latest version of the Eddie Installer or LX Series Installer to receive instructions for download and a free coupon code.
The following screen will be displayed Before the registration screen. (You can rerun the installer to get to it even after all other software has been installed).

Click

Get BarTender

to be directed to the BarTender Website to download the latest version.

Download BarTender 2021 or 2022. The code works only for the 2021 or 2022 version.



If you have trouble activating you may have an older version that needs to be deactivated first using

these instructions

.

This is what you will see in the Help Menu - About when installed correctly.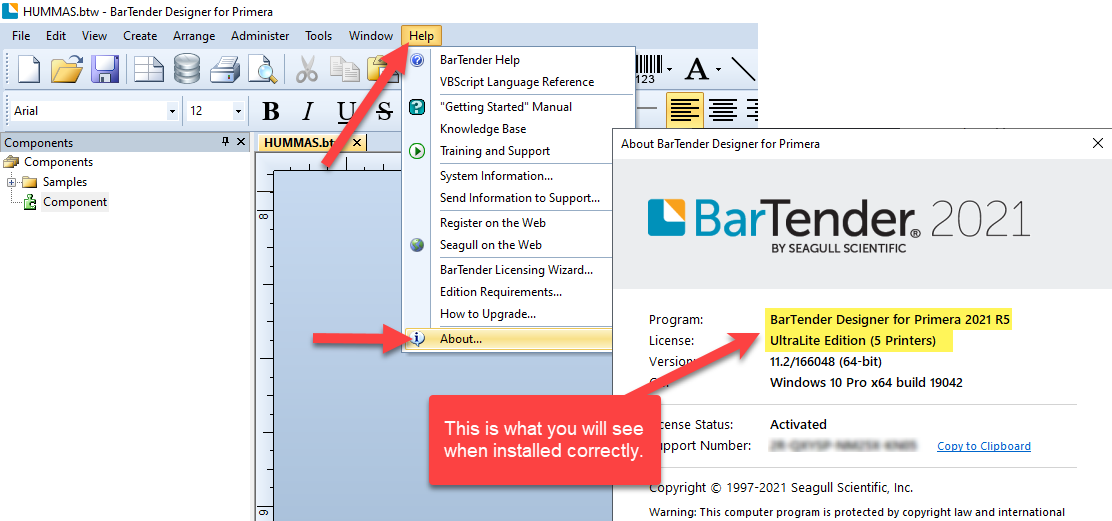 Note: There is only one download of all BarTender editions. This download includes all possible features. The code that the you enter determines what parts of BarTender are unlocked. The code Primera provides unlocks a special suite of features called "BarTender Designer for Primera Ultralite Edition"


Article ID: 011221
Related Articles

How do I deactivate BarTender so I can activate the free Ultralite Primera version?

Open BarTender. Go to the Help Menu. Choose "BarTender Licensing Wizard". Choose "Deactivate BarTender Suite". Choose "Deactivate and remove the Product Key Code from this computer". Click Next. Click Finish when you see the Deactivation Successful ...

Poor Print Quality, Blurry Printing, Print Smearing, faded prints, or splotchy prints on my Cookie or Food Item. (Eddie)

1. Clean the Cartridge. Follow the procedures in this article to clean the cartridge. However, instead of using alcohol to clean the cartridge, use distilled or bottled water. TEST Prints. Print your design on a cardboard coaster or a piece of ...

How to print Red with Eddie Edible Ink Printer.

Update 09-21-22. A new cartridge with new magenta that prints a better red is now available. SKU 053507. To order select New Magenta from the menu on this page. If you have the original 053498 Cartridge you can still use these instructions to get ...

What do I need to get started with Eddie?

Eddie comes with everything you need to get started, but there are a few things to consider if you want to take your cookie to the next level. 1. A sturdy table or Countertop. Eddie is at home in the kitchen, where you can easily access a sink to ...

There are lines through the text on my cookie/label when printing from BarTender. (Eddie, LX Series)

There is a known bug in the BarTender software that causes a 1/16" line to print through certain text and fonts. See example: Workaround Instruction. To fix this issue, first, try a different font. If you must use the font you have chosen, you can ...