There are two types of dye ink and one type of pigment available for each of the five LX label printers. Please refer to the chart below: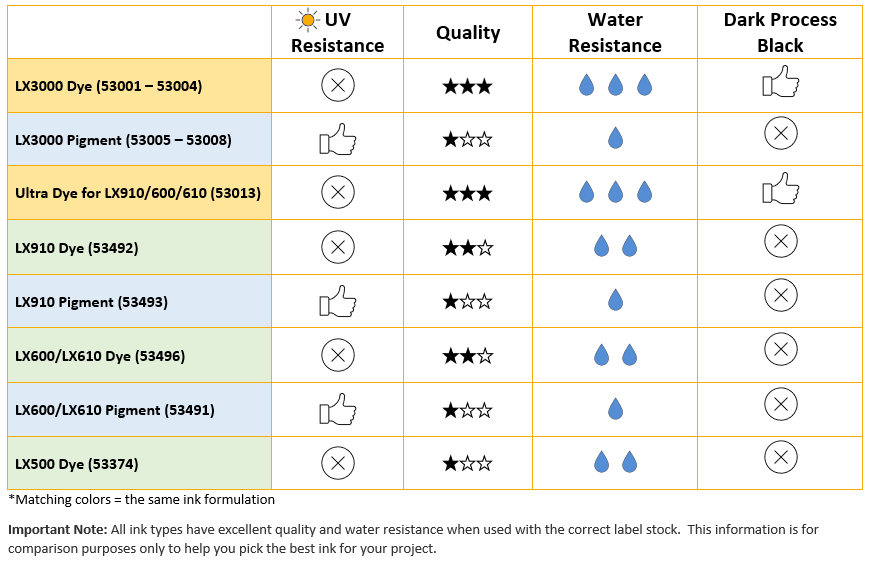 To determine which type of ink is best for each situation Primera performed several print tests and water resistance tests on the following four media types. The media type is just as important as the ink type when determining which ink and media will work best for you.
Premium Gloss – All-purpose low-cost paper stock offering excellent image quality and some water resistance with all-purpose adhesive. Formerly High Gloss Paper Plus - This media will replace all high gloss paper going forward.

Matte BOPP – Matte polypropylene, medium cost stock offering excellent image quality and excellent water resistance.

High Gloss Polyester - Top of the line, bright white polyester premium cost stock offering excellent image quality, excellent water resistance, and good scratch resistance.




Gloss BOPP - Gloss poly propylene,

medium cost stock offering excellent image quality and excellent water resistance especially when paired with the Ultra Dye.

1. Quality
Across all label types, the initial print quality between dye and pigment is virtually the same. Both the vibrancy and color reproduction look very similar. It is hard to tell the difference between dye and pigment ink when comparing quality not looking side by side. However, there are some differences:
Gloss - the dye maintains a glossier finish than the Pigment, especially on High Gloss Polyester.
Vibrancy - the dye ink looks slightly more vibrant/rich than the pigment ink. The main reason for this is that the dye magenta ink is more vibrant than the pigment magenta ink. Cyan and yellow have a similar vibrancy on both dye and pigment.
Solid Black - Ultra Dye produces a truer black than pigment or regular dye. The regular dye has a slight magenta hue. Pigment is better but still has color hue.
Keep in mind that over time especially when the label is exposed to UV light, the pigment ink holds its color, quality, and vibrancy better than dye so the differences above are only noticeable after an initial quality comparison. See UV Resistance below.
Quality Winner = Dye (Ultra Dye is even better using the Gloss BOPP material)

2. Water Resistance
In general, water resistance depends greatly on the label stock and the image you are printing. Testing results are below:
Complete Submersion. (1 Hour after printing) Our Matte BOPP and High Gloss Polyester labels are best for complete submersion. This test consists of running water over the label for 15 seconds. The label design can affect the results. Complete coverage labels with no white space perform best. Other labels with white unprinted areas do not perform as well since the ink from printed areas can run into white areas and absorb. It is possible for the label to lose some ink from the top surface but still look good after all of the excess ink is washed away.

High Gloss Paper – Since this media is made of paper it begins to break down very quickly. However, the ink is very stable because it soaks into the label completely. There is no difference between pigment and dye.
High Gloss Polyester – For dye ink, some of the topcoat of cyan ink washes away and into white unprinted areas if present. For pigment ink, some of the magenta will wash away. The longer you let the label cure before exposing it to water, the less ink will wash away. This is especially true for pigment ink.
Matte BOPP – Both dye and pigment are extremely stable. No ink washes away

Gloss BOPP - Exceeds all label stock types when used with Ultra Dye.


Water Droplet. (1 hour after printing) This test consists of placing one drop of water on the label and rubbing it lightly in a circular motion for 3 seconds. In some cases, we drag the drop of water from the printed area to the unprinted area. The water is then allowed to dry.

High Gloss Paper – Both pigment and dye are resistant to the droplet test. However, when dry, the pigment is the clear winner because no watermarks are present on any color. Dye leaves a watermark only on cyan.
High Gloss Polyester – Neither dye or pigment fared well on this test but for pigment, the image actually smeared off the printed area.

Matte BOPP – No watermarks were present for pigment. The label looks nearly perfect. Dye ink shows watermarks.


Gloss BOPP

- Exceeds all label stock types when used with Ultra Dye.
Water Resistance Winner = Ultra Dye


3. UV Resistance
All inks, whether dye or pigment, will begin to fade over time. Dye ink, generally, is recommended for indoor use on products that will be consumed in less than a year. If exposed daily to direct sunlight or bright indoor lights, dye inks can start to fade quickly.
Pigment ink has superior UV resistance. Primera's pigment inks have been tested outdoors for more than a year with little noticeable fading. Pigment ink is usually selected when many years of indoor use or up to two years of outdoor life is required with little fading.
Long Life Durability and Color Consistency Winner = Pigment

4. Costs (As of 6-03-22)
LX910 Pigment Ink (53493) – $78.95
LX910 Dye Ink (53492) - $76.95

Ultra Dye (53013) - 81.95
All Testing done with Quality 4, 85% saturation and ICC color matching profile appropriate for the installed label stock type.

Images of test results below:
Quality Test - Pigment vs. Dye
Water Submersion - Pigment vs. Dye
Water Droplet Test - Pigment vs. Dye




Article ID: 98290