How do I print to my LX900 using Pigment Cyan, Magenta and Yellow and Dye Black (SKU 53425)?
Since Pigment Black (SKU 53436) is no longer available you may install a dye black cartridge (
SKU 53425
) as a placeholder so you can print in Color Only mode. No dye ink will be used for printing in this mode but a small amount will be used for maintenance over time.
Color only mode will allow you to use the cyan, magenta, and yellow pigment cartridges (SKUs 53437, 53438, 53439) to print in pigment only. Labels will still be UV protected. If you do not need UV protection consider switching to dye ink cartridges. You will enjoy the same high-quality print and water resistance levels as a pigment cartridge. Pigment is only necessary for UV protection.

To enable color only mode on PC, on the print window before printing click the printer preferences button or the document properties button in BarTender. On Mac, click Printer Features.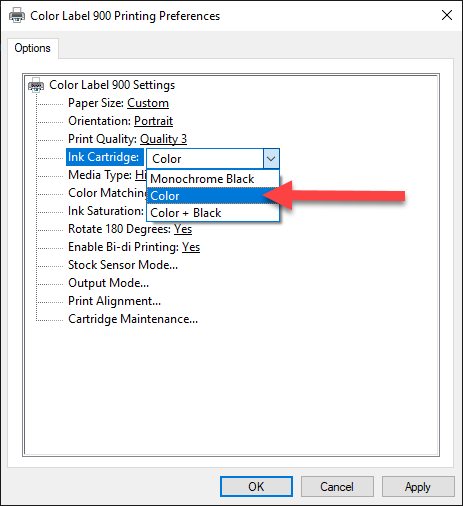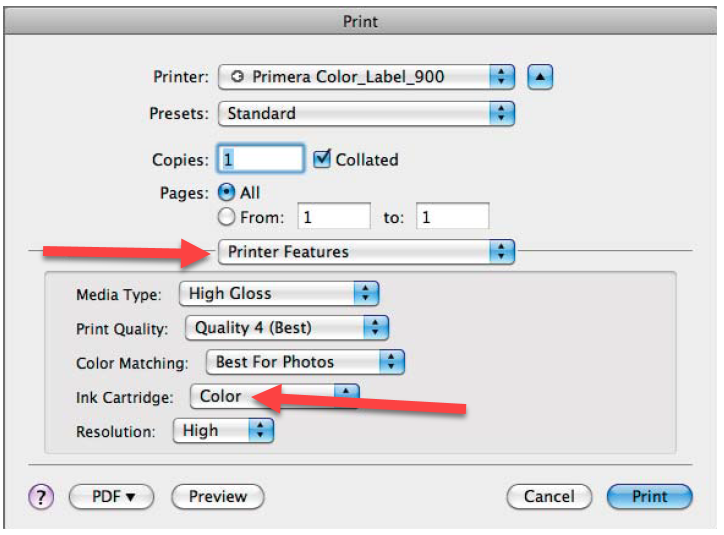 Article ID: 061521
Related Articles

Which ink should I use in my LX500, LX610, LX600, LX910 or LX3000 – Dye or Pigment?

There are two types of dye ink and one type of pigment available for each of the five LX label printers. Please refer to the chart below: To determine which type of ink is best for each situation Primera performed several print tests and water ...

How do I print a dark black using CMY color only cartridges? (LX500, LX600, LX610, LX910 or LX3000).

The LX series printers use Cyan, Magenta, and Yellow ink. There is no dedicated black. In order to create black, all three colors must be mixed to create black (process black). It doesn't look quite the same as true black but it is not noticeable ...

What size/type cookies can I print to with my Eddie?

The cookie size and shape you can print depends on whether or not you are using the carousel and other settings. You have more flexibility in Manual Mode/Single Cookie mode. There are several modes available. See the specifications for each below. 1. ...

Black ink is fading to Brown. (LX900)

The LX900 uses dye based ink that has excellent water resistance but is not as resistant to light (UV). Over time black dye based ink can fade to brown. To resolve this issue we have introduced a pigment ink option. Pigment ink has excellent ...

Can I open the print head lid on my LX3000?

Occasionally you may need to remove the printhead to clean the nozzles. Use the instructions in the video below. You may open and close the lid up to 8 times before the print head will lose its prime and need to be replaced. Each time you open the ...